Safari The multiple dislocations and identities of a métis child from Ruanda-Urundi displaced to Belgium in 1960
1. Abstract
Throughout the period of Belgian colonial rule in the Congo (1885-1960) and Ruanda-Urundi (1916/1924-1962), children of European-African (and sometimes Arabic-African) descent, named 'métis' or, historically, 'mulatto' [mulâtre or mulat in French/Dutch]), were separated from their indigenous families in an increasingly systematic manner. Colonial agents received instructions to identify these children and to relocate them to (religious) institutions. Additionally, most notably on the eve of the Congolese, Rwandan and Burundian independence, a significant – yet undetermined – number of métis children and teenagers were transcontinentally displaced to various countries across the Global North, where they resided in institutions or with foster/adoptive families. This vignette expounds on the trajectory of one of the many children subjected to this double dislocation.
2. Timeline
Disclaimer
'Safari' is one of the many pseudonyms given to the colonial 'child', who is now a senior citizen, featured in this vignette. In agreement with Safari, we have opted to not disclose his actual name. The pictures and sources highlighted in this vignette have been selected in dialogue with Safari. To ensure further discretion, some references have been encoded and/or abbreviated. Names and depictions of third parties (excluding the administrative authorities) who appear identifiable in the documents provided here have been blurred/redacted.
'Safari' is one of the many pseudonyms given to the colonial 'child' – who is now a senior citizen – featured in this vignette. In agreement with Safari, we have opted to not disclose his actual name. The pictures and sources highlighted in this vignette have been selected in dialogue with Safari. To ensure further discretion, some references have been encoded and/or abbreviated. Names and depictions of third parties (excluding the administrative authorities) who appear identifiable in the documents provided here have been blurred/redacted.
3. Safari's story
Source 1: Photograph of the canteen of the Save Institute during lunchtime, c. 1955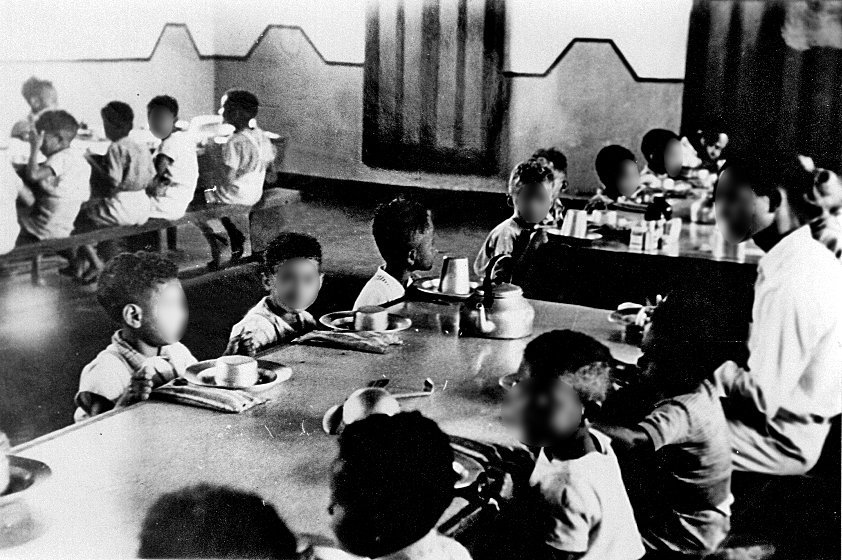 Source: Safari's private collection.
The Save Institute for métis children was run by the Missionary Sisters of Our Lady of Africa (commonly known as 'the White Sisters') and started caring for métis children from the Ruanda-Urundi territory in the early 1920s. From 1946, the institute also accommodated métis children from the Kivu region in Belgian Congo (Eastern part of Congo, bordering present-day Rwanda). Safari, here pictured sitting at one of the tables, entered Save in 1954.
The separation of children from their African families and their placement in institutions is a practice that dates back to the early days of the Belgian presence in Central Africa. In 1890 and 1892, two legal decrees stipulated that children considered 'abandoned' should be placed under state guardianship and relocated to state-financed 'school colonies' (colonies scolaires), which were usually under the supervision of a Catholic or Protestant congregation. Though not explicitly targeted at métis children, these decrees served as a legal basis for justifying the increasingly systematic separation and segregation of biracial children. As long as their European father had not formally recognised his biracial offspring, most métis children were considered to be legally and socially abandoned, regardless of their actual living conditions.
Because of their (perceived) alienation from their native communities, headmistress Sister Lutgardis feared that métis children would become targets of ethnic violence during and after the decolonisation conflict. As the independence of Congo and Ruanda-Urundi began to appear inevitable, Sister Lutgardis looked for partners in order to arrange the transfer of the children placed in her institution to Belgium, where they were to be adopted by 'proper Catholic families'. The Save Institute cooperated with Belgian adoption agencies and placement services, as well as with the colonial authorities (in both Ruanda-Urundi and Belgium) in order to expedite the evacuation of the children. Between 1958 and 1961, approximately 300 residents of the Save Institute, including Safari, were permanently relocated to Belgium.
Source 2: Leon Gister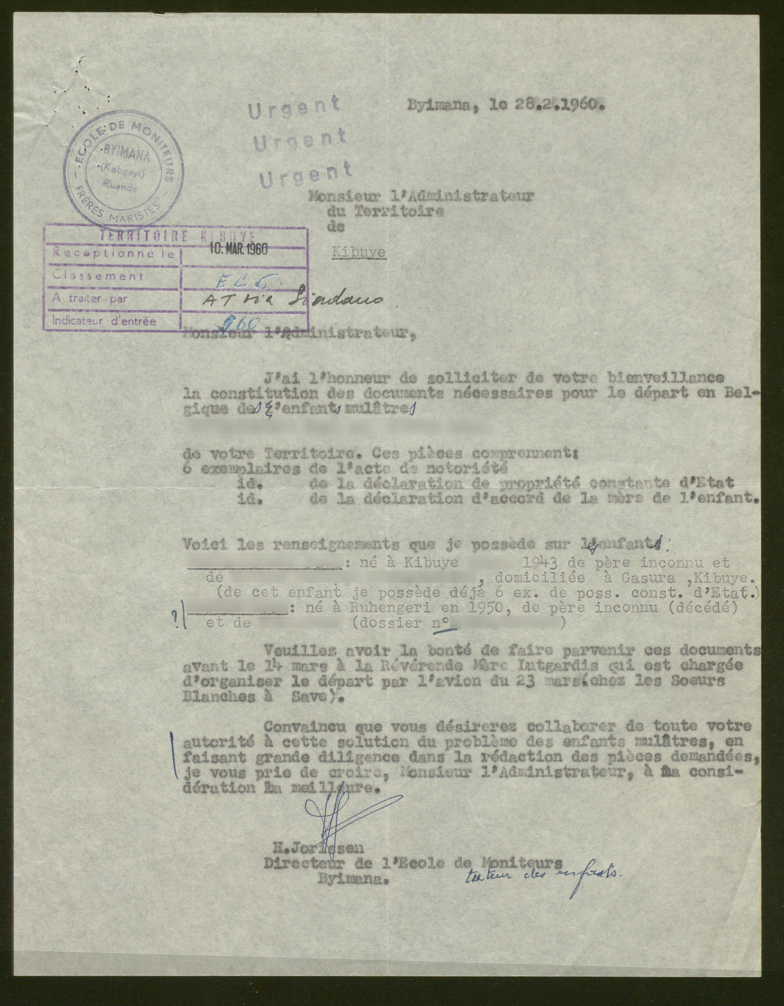 Source: Letter from the head overseer of the boys' school of the Marist Brothers in Byimana to the territorial administrator of Kibuye, 28 February 1960.
Transcription: Mr Administrator, I have the honour to request of you the courtesy of the constitution of the necessary documents for the departure to Belgium of the mulatto children of your territory: [redacted]. These documents include: 6 copies of the act of notoriety, id. the declaration of constant state ownership, id. the declaration of agreement of the mother of the child. Here is the information I have on the children: [redacted], born in Ruhengeri in 1950, of an unknown father and [redacted].
Please be so kind as to send these documents before 14 March to the Reverend Mother Lutgardis who is responsible for organising the departure by plane on 23 March at the White Sisters at Save. Convinced that you will want to collaborate with all your authority in solving the problem of the mulatto children by being very diligent in the drawing up of the documents requested, I beg you to consider, Mr Administrator, my sincerest [salutations]. Signature: H. Jorissen. Principal of the École de Moniteurs Byimana. [scribble: guardian of the children]
This document was found in an individual 'RWABU'-file pertaining to a different métis child. The RWABU collection contains hundreds of individual files compiled by colonial authorities on métis children in Ruanda-Urundi. These files are part of the 'African Archives' (see section 4). Given their personal, recent and highly sensitive nature, they are not open for consultation by third parties.
According to these files, Safari was admitted to the 'École de Moniteurs' ('School for instructors') in Byimana, located in present-day Rwanda, in September 1959. Safari, however, states that he entered Byimana one year earlier, in 1958. The (boarding) school was established by the Catholic Marist Brothers in 1952 and exclusively accepted boys over the age of eight. From the scribbles on this letter, presumably added by the colonial authorities, we learn that the head overseer of Byimana was appointed as Safari's legal guardian, which was common practice when a child placed under state custody was relocated to a religious institution. We know little about the kinds of courses given at the École de Moniteurs or about the day-to-day life in the school. Today, the school still exists as an educational complex named 'École des Sciences de Byimana'.
Sister Lutgardis regularly relocated older boys to other institutions in the vicinity of Southern Rwanda (mostly to Byimana, Astrida (now Butare) and Nya-Ngezi, just across the Congolese border), where they pursued further education and learned a trade. Between 1959 and 1962, the majority of, if not all, métis pupils of Byimana were transferred to Belgium. This letter stems from correspondence between the head overseer of Byimana and the local Belgian authorities, in which the head overseer requested the administrator to establish the necessary documents to organise the child's relocation. The documents named here are (1) the 'acte de notoriété' [act of notoriety], a document that testified to the existence of the child if a birth certificate could not be found (which also attests to the mediator's wish to expedite the transfer), (2) the 'déclaration de possession constante d'état', a document that established the legal relationship between mother and child in practice if the child was born out of wedlock, and (3) a 'déclaration d'accord' [declaration of agreement'] (see source 3). Interestingly enough, this letter mentions Safari's father as unknown, while other sources document the identity of his Belgian father (see source 4).
The stamp indicating the letter's status as 'urgent' and the request to collect the necessary documents before a certain date testify to the hasty and chaotic manner in which the relocations were organised, and demonstrate how the actors involved presented the relocations as an evacuation and as a necessary solution to a 'problem', as indicated in the letter. The letter also demonstrates that the overseers arranged the transfer of multiple children at the same time, and that the children were often brought to Belgium in groups.
Remarkably, this document does not feature in Safari's individual RWABU file but was found in a file pertaining to another métis boy residing in Byimana. Here, Safari is mentioned under the pseudonym Leon Gister. We do not know where this name comes from or who gave it to Safari, but it demonstrates how métis children were given multiple and changing identities, arguably to obscure the biological filiation with the European father and to reinforce the child's illegitimacy and (perceived) 'abandoned' status. The fact that the document mentions the mother's name but obscures the father's identity further supports this hypothesis. At the same time, these 'scattered' identities and archival sources obstruct both the reconstruction of individual trajectories and the possibility of ensuring access to the people whose very lives these papers document.
Source 3: 'Déclaration d'accord'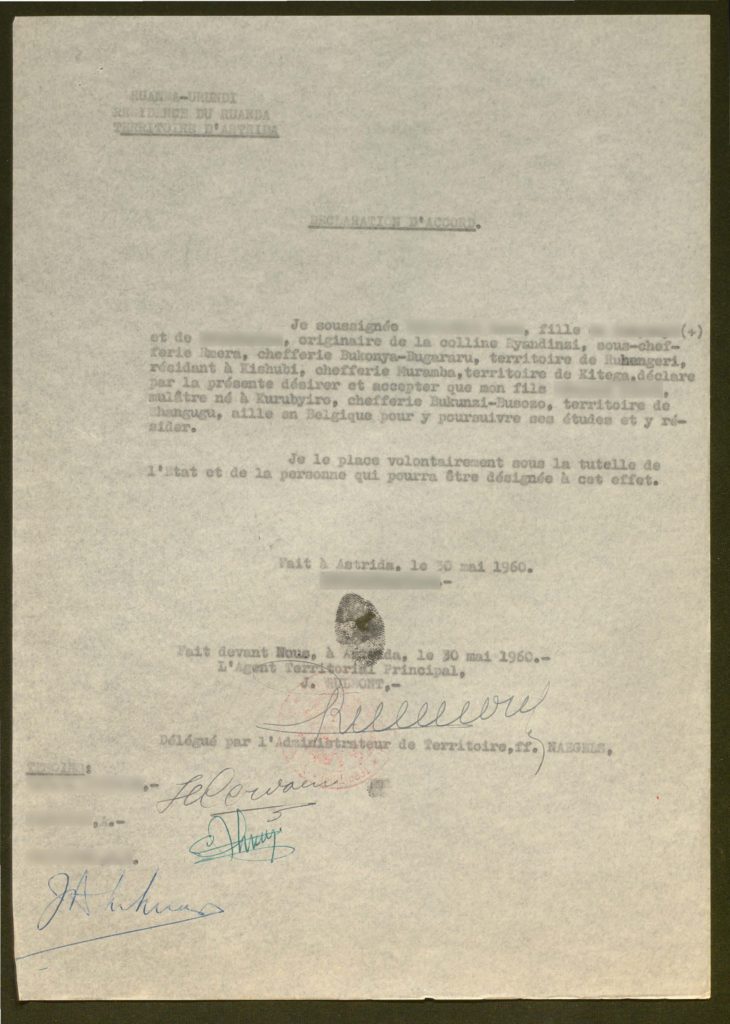 Source: 'Déclaration d'accord' ('declaration of agreement'), 30 May 1960.
Transcription:
Ruanda-Urundi – Ruanda Residence – Astrida Territory

Declaration of agreement.

I, undersigned [redacted], daughter of [redacted], originating from the Ryandinzi hill, Temera sub-chiefdom, Bukonya-Bugararu chiefdom, Ruhengeri territory, residing in Kishubi, Muramba chiefdom, Kitega territory, hereby declare that I wish and accept that my son [redacted], mulatto born in Kurubyire, Bukunzi-Busoso chiefdom, Shangugu territory, goes to Belgium to pursue his studies and reside there.

I voluntarily place him under the guardianship of the State and of the person who may be designated for this purpose.

Done in Astrida on 30 May 1960. Done before us in Astrida on 30 May 1960. J. Rulmont, Main Territorial Officer. Delegated by the acting Territorial Administrator Naegels.
This document can be found in one of the two individual files that were produced for Safari in the RWABU collection (see source 2).
The 'déclaration d'accord' is one of the standard documents that were produced for each métis in preparation for his/her transfer from Ruanda-Urundi to Belgium. The Save Institute cooperated actively with the colonial authorities and several philanthropic associations in order to gather a set of standard documents for each child that was to be sent to Belgium (see source 2).
In the 'déclaration d'accord', Safari's mother states that she 'wishes and accepts' that her child is sent to Belgium 'to pursue his studies and reside there' and 'voluntarily place[s] him under the guardianship of the State and of the person who may be designated for this purpose'. The document is signed with a fingerprint, which is often one of the few traces left by African women in colonial archival records. It remains particularly difficult to establish to what extent Safari's mother was fully aware of what she was committing herself to by agreeing to have her son sent to Belgium in order to 'study and reside' there. Although these documents give the appearance of a relinquishment, many questions remain about the real intentions and wishes of these women. Did Safari's mother realise the implications of what she was 'signing'? To what extent was she offered a real choice? It is indeed questionable whether colonial administrators took the time to explain to African mothers all the true implications of the document they were asked to sign. The vast majority of them were presumably not able to read these documents – the fingerprint alludes to the mother's illiteracy – which means that they could only rely on what they were told by the colonial agents.
Moreover, it seems fair to question the extent to which the mothers could truly refuse to sign the papers in front of the colonial agents. In the Belgian colonial system, indigenous women were subjected to a double discrimination of both race and gender. The archives show that the very few women who dared to resist the colonial administration, by refusing to give away their rights to their own children, were subjected to various strategies of oppression: intimidation, manipulation, pressure or accusations of being hysterical and unfit to raise children, as attested by 'witnesses'. At the same time, they were told that their child would have a better future and education in Belgium. By refusing to let them go, they were supposedly depriving them of a unique chance of upward mobility. These types of documents must be interpreted with great caution, given the peculiar historical context and circumstances of their creation. Then again, researchers should also avoid overinterpreting these faint traces. Would these women, some of whom are still alive today, recognise themselves in the stories that historians have conjured up about them?
Source 4: 'Fiche d'identité mulâtre'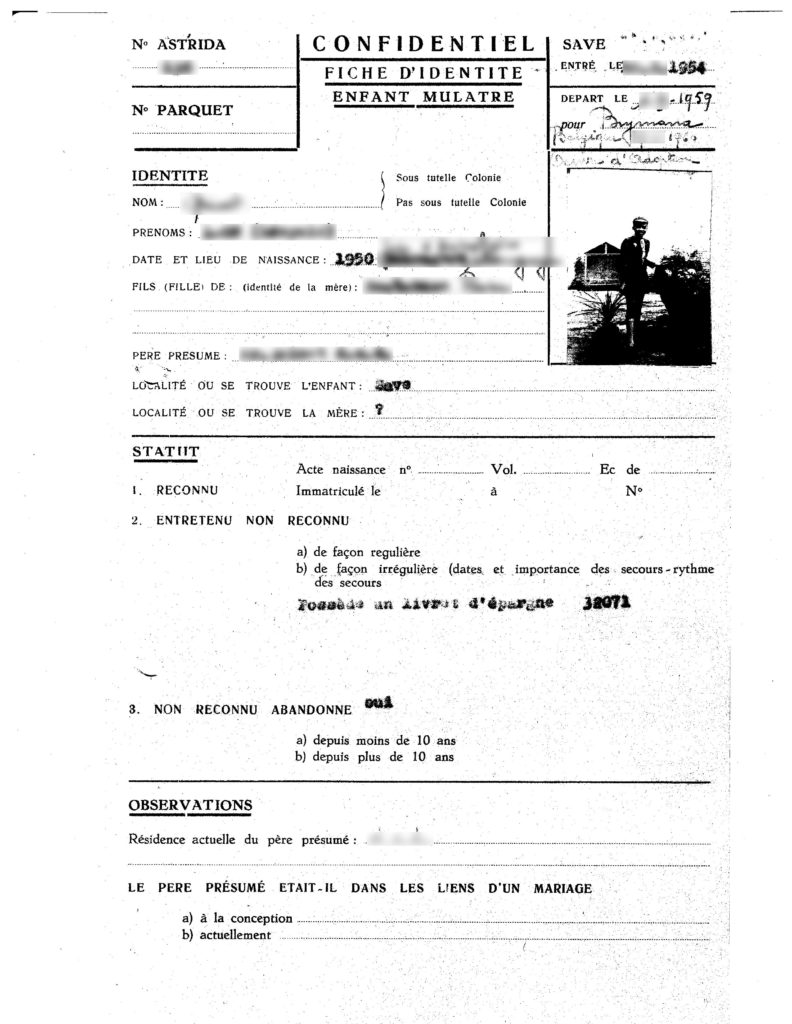 Source: 'Fiche d'identité – enfant mulâtre' ('Identity form – mulatto child'), c. 1960.
Around 150 of these forms are kept at the Flemish Central Adoption Authority (Vlaams Centrum voor Adoptie – VCA). Each form contains cursory information about a métis minor transferred from Save to Belgium. Until 2015, they were kept at the (private) archives of the adoption agency 'Vreugdezaaiers' ('Joy Sowers'). It remains unclear who originally produced these identity files, but it seems likely that they were compiled by Sister Lutgardis, the Reverend Mother in charge of the Save Institute.
Transcription: Confidential. Identity form – mulatto child. Save; Admission: 10.2.1954. Departure: 1.9.59 to Byiamana. Belgium 17.6.1960 'Oeuvre d'adoption'.

Identity: Surname (under guardianship of the colony – not under guardianship): / Name: / Date and place of birth: 1950 June at Kurubyiro Ruhengeri Shangugu. Son (daughter) of (identity of the mother): / Presumed father: deceased. Place of residence of the child: Save. Place of residence of the mother: ?

Status: 1. Recognised. Birth certificate No. Vol. Immatriculated on … at … 2. Supported not recognised a) regularly b) irregularly (date and importance of the aid – frequency of the aid) Has a savings booklet; 3. Not recognised abandoned. Yes. a) since less than 10 years b) Since more than ten years

Observations: Current residency of the presumed father: deceased. Was the presumed father in a conjugal relationship? a) at conception b) currently.
These 'fiches d'identité' document general and cursory information on métis children that resided at Save. We are unsure about the exact documentary purposes the form served. Contrary to the above-mentioned sources, this form allows for the names of both birth parents to be listed. The 'status' part of the form illustrates the great elasticity of the notion of 'recognition' by the father at the time. There were indeed several categories and a métis child could be recognised but abandoned, not recognised but financially supported ('non reconnu entretenu'), etc. In Safari's case, he was considered 'unrecognised abandoned' – his father being deceased – but had a savings account set up by his father before his death. In the right-hand corner, above the photograph of Safari, some key information about his journey is concisely recorded. We learn here that Safari entered the Save Institute when he was four years old, on 10 February, 1954 and that he left for Byimana five years later. On 17 June 1960, Safari arrived in Belgium under the care of the adoption agency Oeuvre d'adoption/Adoptiewerk. Created in the aftermath of the Second World War under the direction of Thérèse Wante, the Oeuvre d'adoption became one of the major partners of the Save Institute with regards to the transfer and reception arrangements of métis children in Belgium. Unfortunately, their archival records could not be located and it remains unclear whether and where their archives have been preserved. The fact that some, but not all, institutions have produced, preserved and made accessible documents concerning the métis children they cared for (a small number in some cases, a larger number in others) results in serious documentary inequalities (see section 6).
The black-and-white photograph of Safari attached to the form opens up many questions. The photographer is unknown, nor do we know precisely when the photo was taken and/or joined onto the form. It was presumably taken prior to Safari's departure to Belgium, but we do not know whether it was taken near Save, Byimana or elsewhere. In the picture, Safari appears to be smiling, and he is wearing formal attire. One wonders, of course, to what extent this photograph has been staged, and what its purpose was. Safari has obviously been dressed up for the occasion, but is he posing this way spontaneously, or is he following specific instructions? Was this photo meant to be presented to potential foster parents, or simply to fulfil administrative, documentary purposes? Are there any copies of this photograph, and, if so, where were/are they kept?
Source 5: Bambino House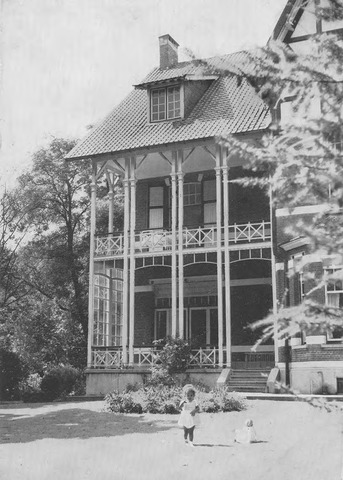 Source: Postcard of Bambino House in Schoten, Belgium, c. 1962, found in: Beeldbank Schoten, AN6920FOT.
After arriving in Belgium, Safari (not pictured in the postcard) resided at Bambino House, a foster home located on the outskirts of Antwerp, for three months. Bambino House was founded by Thérèse Wante, director of the adoption agency Oeuvre d'Adoption/Adoptiewerk (see source 4), in 1954. In 1962, the renovation of a second villa, pictured here, was financed via a fundraising initiative advertised in local Catholic periodicals and philanthropic circles. This postcard, picturing an unknown (métis?) girl and what appears to be a wooden toy horse in the garden of Bambino House, was presumably sold as part of this fundraising initiative.
An unknown number of métis children resided at Bambino House temporarily, while awaiting placement in a foster or adoptive family. Despite the postcard picturing an infant girl, arguably the most 'sought-after' category of adoptees at the time, Bambino House accommodated children of all age groups. Since the archives of both Bambino House and Oeuvre d'Adoption have not yet been located, most available information on life in the home comes from oral testimonies. Through interviews with former residents, we have learned that prospective adoptive parents visited Bambino House at weekends, during which they could meet and get acquainted with the children. It was possible for families to have a child stay with them during the weekends or the holidays, to see if the child formed a good 'fit' in their household. The 'matching' procedure of potential adopters with the children was entirely in the hands of Thérèse Wante and a group of exclusively female caretakers who nursed the children. Since adoption case records of this agency have not been systematically preserved/made accessible (see section 4), we know very little about the selection criteria that were applied during the matching procedure. We do know that Thérèse Wante only mediated adoptions for Catholic married couples and that candidates were asked to present a recommendation from their parish priest. Exceptionally, single women were also eligible to take in children that were deemed less 'adoptable', including older children or children with special needs.
Like the majority of métis children displaced during this period, Safari was not formally adopted by his foster family. Whether métis children were placed with foster families, remained in institutions or were formally adopted depended on many factors: the presence of documents in which the legally known parent formally consented to the adoption of his/her child, whether the adopters met the legal requirements at the time (adopters had to be childless and over thirty-five years old), and whether the mediators responsible for the placement deemed the child 'fit' for adoption or better suited to institutional life. Children who were formally adopted generally enjoyed a more secure legal and social status, adding to the set of unfortunate inequalities between métis regarding their access to civil rights and citizenship.
Source 6: Administrative chaos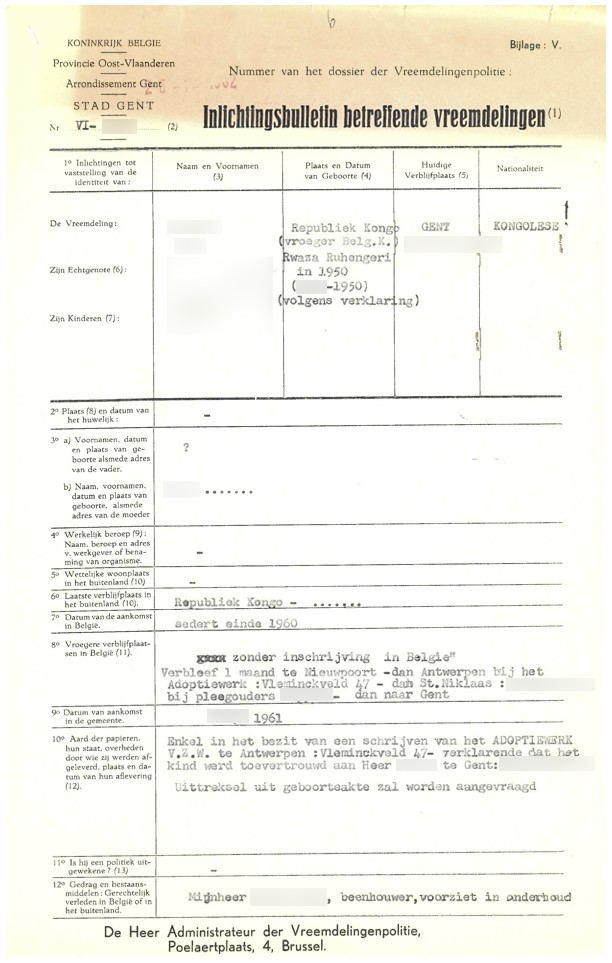 Source: Excerpt from the alien registry, Ghent, Belgium, 22 February 1962
Source provenance: This document features in Safari's individual case file created by the Alien Police. Individual files created before December 1959 have been transferred to the State Archives, files created thereafter are kept at the Immigration Office – Ministry of Home Affairs. These holdings constitute one of the rare documentary spaces where métis individuals entering Belgian territory were more or less systematically registered. Unfortunately, the researchers' access to these files has been limited due to privacy regulations. Additionally, locating the right file can be complicated when the name on the file no longer corresponds with the person's current name (e.g. when changed through adoption, etc.)
Transcription: heading: Kingdom of Belgium. Province of East Flanders. District Ghent. CITY OF GHENT. No. VI-[redacted] (2) – Number of the Alien Police case file: [redacted] – Informational bulletin regarding foreigners (1)

1° Information regarding the identification of : – Name and first names (3) – Place and date of birth (4) – Current residency (5) – Nationality

The foreigner: [redacted] – Republic of Congo (formerly Belgian Congo) Rwaza Ruhengeri in 1950 ([redacted]-1950) (according to declaration) – Ghent – Congolese

His spouse (6)

His children (7)

2° Place (8) and date of marriage:

3° a) First names, date and place of birth as well as address of the father: ? b) First names, date and place of birth as well as address of the mother : [redacted]

4° Actual occupation (9): name, occupation and address of employer or name of the organisation

5° Legal residency abroad (10)

6° Last residency abroad (10): Republic of Congo – …

7° Date of arrival in Belgium: since the end of 1960

8° Previous residencies in Belgium (11): xxxx without registration in Belgium. Resided one month in Nieuwpoort – then Antwerp at Adoptiewerk: Vleminckveld 47 – then St. Niklaas: [redacted] with foster parents [redacted] – then to Ghent

9° Date of arrival in the municipality [redacted] 1961

10° Nature of the documentation, their condition, authorities by whom they were delivered, place and date of delivery (12): Only in possession of writings from ADOPTIEWERK V.Z.W in Antwerp: Vleminckveld 47 – declaring that the child has been entrusted to Sir [redacted] in Ghent: excerpt from the birth certificate will be requested

11° Is he a politically displaced person? (13)

12° Conduct and livelihood: Judicial history in Belgium or abroad: Sir [redacted], butcher, provides for support
Safari, like many other métis, experienced a series of administrative hurdles triggered by his transfer to Belgium. Before independence, Congolese métis who had not been legally recognised by their European progenitor were regarded as 'Belgian subjects' (sujets belges), as the Congolese nationality did not exist under colonial law. Likewise, inhabitants of Ruanda-Urundi were given the status of 'residents of Ruanda-Urundi' (ressortisants de Ruanda-Urundi). In October 1960, after the Congolese independence, a Belgian ministerial order stipulated that all métis children whose recognition by their Belgian father could not be proven had to be inscribed in the Alien registry. From then on, they resided under the Alien Law, which profoundly limited their access to civil and social rights and amenities.
The creation of individual alien files for métis children forms a recent archival discovery. The consultation of these files often triggers many questions for both researchers and the concerned individuals. In the Alien registry of Ghent, where Safari resided in a foster family, he was erroneously inscribed as of 'Congolese' rather than of Rwandan descent. The registry had also falsely listed Safari's nationality as Congolese, even though Congolese nationality could not be obtained without approval from the Congolese embassy. Similar and equally tedious procedures applied with regards to the acquisition of the Rwandan and Burundian nationality, whose independent governments often no longer recognised certificates that had been issued by the former coloniser. As a rather perplexing consequence, a (small) number of métis children spent multiple years of their lives as stateless individuals. Safari finally obtained Belgian citizenship in 1968, after successfully applying as an adult.
4. Provenance of the sources
The so-called 'African Archives' (where sources 2 and 3 were located) constitute a heterogeneous set of archival collections mainly produced by the Belgian colonial administration. Around six kilometers of these archives were produced by the colonial administration in Africa (mainly the 'Gouvernement Général' and its different services) and were brought to Belgium in 1959-1961, on the eve of the independence of Congo and Ruanda-Urundi. Around 3.5 kilometers were created by the metropolitan administration in Brussels, referred to as the archives of the 'Ministry of Colonies' and its different services. Together, these archives amount to almost 10 kilometers and consist of hundreds of different collections, produced by a variety of (mainly administrative) actors. They address an impressive variety of issues and topics, from agriculture to public health, 'indigenous affairs', education, missionary activities, etc. These archives are currently being transferred from the Ministry of Foreign Affairs (where they were kept from 1997) to the State Archives.
Many of the collections within the 'African archives' have not yet been described and inventoried in compliance with current archival standards. Combined with the fact that the 'métis question' has been dealt with by a multitude of institutional actors in different ways, this variable degree of inventorying further complicates the identification of relevant files. It is a laborious task to investigate these extremely rich collections in order to document the individual and collective trajectories of the métis during the colonial period and its aftermath. This work is underway, but will inevitably take considerable time.
The RWABU collection (see sources 2 and 3) constitutes one of the most promising collections contained in the 'African Archives' for retrieving individual records concerning displaced children from Ruanda-Urundi. There are, however, many other trails to follow among these 'African archives', for instance that of the directorate of 'Affaires indigenes' ('indigenous affairs'), who paid a great deal of attention to the 'métis question', or that of the 'Commission de tutelle' ('guardianship commissions'), established in each district and charged more and more systematically with managing the guardianship of children considered to be abandoned, including métis children.
The administrative files of the 'Personnel d'Afrique' ('African Personnel'), pertaining to the members of the colonial administration, serve as an important lead for retracing personal origins, especially concerning the biological fathers. Since many métis were born to fathers working for the colonial administration, exploring their administrative files remains one of the principal means of finding information on these biological fathers. Over 80,000 individual files were produced by the 'Service du Personnel d'Afrique' ('African Personnel Service'). These files are essentially administrative in nature, but vary in size and content. While most offer a cursory overview of the agent's career in the colonial administration, some offer a broader picture of the employee's background and can include a considerable amount of biographical data, sometimes a photograph, correspondence, evaluations or even disciplinary procedures. For colonial residents who were employed by a private company or who were working as independent entrepreneurs, comparable record collections do not exist. Unlike the colonial administration, private companies were not legally obliged to keep records of their personnel or to deposit them in a conservation institution.
Additionally, valuable source material (such as source 4) on the trajectories of métis children can be located in adoption or foster care case records. Despite their serial nature, their contents can vary significantly. This heterogeneity partly stems from the fact that there was no regulatory framework concerning the creation and preservation of adoption files until the late 1980s. Until then, adoption agencies operated as voluntary organisations, meaning that the upkeep and management of their archival records was not bound to any preservation obligations. Consequently, valuable sources have been lost due to archival mismanagement. Furthermore, the preservation of these files has been impacted by what scholars have later referred to as the 'clean break paradigm'. In the 1950s and 1960s, adoption-related decisions were often guided by the idea that the child's pre-adoption identity should be obscured and that access to case files should be restricted, in order to allow the child to start his/her new life with a 'clean slate'. Although refuted by child welfare advocates in later decades, the clean break paradigm still lingers in the limited modes of accessibility of these case files. It is only since 2015, to a significant degree as a result of the campaigns of (métis) advocacy groups, that holdings of adoption/placement case files have been systematically centralised at the Flemish Central Adoption Authority, where (métis) adoptees can consult their personal files. A handful of adoption agencies, such as Oeuvre d'Adoption/Adoptiewerk, have yet to open and deposit their files and/or administrative archives.
5. Postcolonial continuities
Among the societal and parliamentary debates that animate today's post-colonial Belgium, the 'métis question' occupies a rather central place. Grouped in organisations, the métis led a long struggle to obtain official recognition of the 'targeted segregation practices' they suffered under Belgian colonial rule. Many of the métis who were moved to Belgium continued to experience discrimination and, in addition to the loss of identity and origins, still suffer the very concrete, administrative consequences of these targeted separation practices.
The 'Métis Resolution' adopted by the Belgian House of Representatives on 29 March 2018 is the first federal recognition of the 'targeted segregation' of the métis by Belgian colonial authorities. Official apologies from the Belgian government followed in 2019. The various demands stipulated in the resolution include further historical research to improve our knowledge of this painful past and the identifying and cataloguing of archival sources that allow for the reconstruction of both the individual and the collective trajectories of the métis. A vast research project was consequently launched and is currently underway at the State Archives in order to shed light on this history and to assist métis people in search of their roots (www.metis.arch.be).
Displacements of Congolese, Rwandan and Burundian youth to Belgium, furthermore, continued into the postcolonial era, this time, however, occurring mostly within the framework of transnational adoption. Since 1969, an amendment of Belgian adoption legislation allowed for the establishment of permanent, hereditary ties between adopters and adoptees, which included the transfer of Belgian citizenship. Between 1970 and 1994, approximately 350 Rwandan and 159 Burundian children were brought to the former metropole. Additionally, Sister Lutgardis had continued to mediate adoptions of métis children during the 1960s. During these decades, a handful of religious philanthropists, some of whom had participated in the transfers of métis children in the colonial era, maintained their key positions in the organisation of the transfers and the selection of both children and prospective adopters. While adoptions during the 1960s and 1970s almost exclusively concerned métis children, the 1980s also saw an influx of black adoptees. For numerous reasons – notably, the ubiquitous emphasis on 'saving' African children – these postcolonial adoptions remain steeped in controversy. At the same time, the links between colonial and postcolonial displacements complicate adoption genealogies that present transnational adoption as a phenomenon that only recently gained momentum, by exposing the religious and missionary roots of transnational adoption.
6. Questions and silences
Uneven documentation
The individual trajectories of displaced métis are, unfortunately, very unevenly documented. Some individuals, just because they were sent to specific institutions that did not produce and/or keep archives, or whose archives are not accessible, remain blatantly under-documented. This leads to painful and enduring documentary inequalities. Siblings were often separated and sent to different institutions, which means that the history and trajectory of one métis can be relatively abundantly documented, while very few – or no – documents will be found on his/her siblings. Generally speaking, this archival silence is particularly deafening when it comes to the many métis who remained in the independent Congo, Rwanda and Burundi, about whom the chances of finding documentation remain noticeably slimmer.
The continuous uncertainty surrounding the legal status and position of métis within colonial society further complicates the identification of relevant – administrative – actors and, therefore, of relevant sources. In a system based on the domination of the 'white race' over the 'black race', only members of the dominant group were registered as citizens under Belgian law. The management of the civil status and administrative registers and the application of directives and laws also varied greatly over time, as well as from one territory to another (and sometimes even from one territorial administrator to another). This inevitably furthers the erasure of African families, whose voices are already particularly tricky to recover (see also source 3).
For the métis, the issues regarding identification are even more complicated because they did not fit into either of the two dichotomous categories upheld by the colonial system. It remains particularly difficult to identify comprehensive serial sources on the métis population in Belgian Congo and Ruanda-Urundi. The few general censuses of the métis population in Belgian Central Africa were carried out in a very uneven way across the various administrative territories. Consequently, many questions regarding the overall scale of these separation and displacement practices and the total number of children implicated remain unanswered. Likewise, the amount of métis children that were relocated overseas remains a 'dark number', as their arrival on Belgian soil (and elsewhere) has been irregularly documented.
Religious/Private archives
As with many other aspects of Belgian colonial rule, the church played a major role in implementing the practices of segregation that targeted métis children. Various religious congregations, both Catholic and Protestant, and a number of laic philanthropic associations actively participated in the relocations of métis children to specialised institutions. As religious archives have a private status, it is unfortunately not always easy to obtain access to them. While some associations and congregations have deposited their archives in conservation institutions, they have not been bound to legal obligations regarding the upkeep, preservation and accessibility of their archives. Arguably, the 'clean break' paradigm (see section 4), here demonstrated by the multiple names and identity changes Safari experienced, has led to a loss of information and poses additional heuristic complexities. It is crucial that researchers are allowed to access all archives that have been produced by private actors in order to conduct a comprehensive study on the history of the métis born during the Belgian colonisation of Central Africa and to assist in the reconstruction of their (hi-)stories and their interpersonal, familial links. Last, but certainly not least, it remains imperative that the access to these files is improved and expanded for the métis whose very lives and origins they document, as well as for their relatives.
7. Collaboration and conversation: call for input
The inclusion and collection of personal testimonials has been of crucial importance in the reconstruction of the (hi)stories of the Belgian colonial métis. Thanks to the métis who were willing to share their memories and knowledge, historians were able to develop a fuller frame of reference and to recount the actual practices of displacement in a more nuanced manner. The authors of this vignette welcome all contributions that shed light on the lived experiences of anyone who has taken part in this important episode of Belgium's (post-)colonial history.
The authors would particularly appreciate any contribution that would help to fill the most glaring gaps in archives and documentation, especially any leads on the archives of religious congregations (locally and in Europe), and on the archives that may have been kept in Congo, Rwanda and Burundi in connection with this issue.
Individuals who wish to share their expertise and stories, may contact the authors via metis@arch.be. All contacts are handled with the utmost discretion and confidentiality.
8. Vignettes linked to this child
9. Further reading
Sarah Heynssens. 'Practices of Displacement: Forced Migration of Mixed-Race Children from Colonial Ruanda-Urundi to Belgium'. Journal of Migration History 2 (2016): pp. 1-31.
This article provides a more in-depth look at the displacements of the Save children, as well as an investigation of the resistance strategies of indigenous families.
Assumani Budagwa. Noirs-Blancs, Métis: La Belgique et la ségrégation des Métis du Congo belge et Ruanda-Urundi (1908-1960). 2014.
An extensive monograph (in French) on the displacements of métis children in the Belgian colonial realm, including transcriptions of key documents and interviews.
Lissia Jeurissen. 'Les ambitions du colonialisme belge pour la "race mulâtre" (1918-1940)'. Revue belge d'histoire contemporaine 32, nos. 3-4 (2002): pp. 497-535.
This article (in French) provides a more general overview of the legal and social position of métis people in the Belgian colonial realm.
Nicole Grégoire. 'Postcolonial Belgium and Reparatory Justice: The Case of the "Colonial Métis"'. In Opposing Colonialism, Antisemitism, and Turbo-Nationalism: Rethinking the Past for New Conviviality, edited by Marina Gržinić, Jovita Pristovšek and Sophie Uitz, pp. 67-87. Newcastle upon Tyne: Cambridge Scholars Publishing, 2019.
This chapter examines the social justice strategies of métis advocacy groups in postcolonial Belgium, and aims to uncover why their voices have been heard while others have been silenced.
Chiara Candaele. 'Mother Metropole: Adoptions of Rwandan Minors in Postcolonial Belgium (1970-1944)'. BMGN – Low Countries Historical Review 135, nos. 3-4 (2020): pp. 209-233.
This article explicates the colonial roots of transnational adoptions from Rwanda to Belgium and expounds upon the continuities and departures with regards to practices of child separation that occurred during the colonial era.
This piece of investigative journalism foregrounds several testimonials of métis and the injustices they have encountered.
This news article focuses on the lived experiences of a métis woman who was later adopted in the United States.
Georges Kamanayo-Gengoux, dir. Kazungu, le métis. 2000. 54 min.
An autobiographical documentary-style film that follows the quest of a now-adult métis man in search of his roots and identity.
Website of the research project carried out at the State Archives on the history of métis born during the period of Belgian colonial domination in Central Africa: www.metis.arch.be; including a digital exposition developed by the research team (in Dutch and French) : www.expo-metis.arch.be.
Chiara Candaele, Delphine Lauwers, Bérengère Piret and Marie van Eeckenrode. 'Van confiscatie tot dekolonisatie: De uitdagingen van de koloniale archieven'. META: Tijdschrift voor Bibliotheek en Archief 2 (2021): pp. 10-15.
An article (in Dutch) on the archival challenges that come with preserving displaced, colonial archives.
10. Authors
Dr Delphine Lauwers (Researcher, 'Resolution-Metis' research project, State Archives of Belgium, Brussels / Researcher 'Mondes modernes et contemporains', Université libre de Bruxelles).
Chiara Candaele, MA (PhD Researcher at the Research Centre for Political History, University of Antwerp / Researcher, 'Résolution-Métis' research project, State Archives of Belgium, Brussels).
1950
Safari birth
1954
Safari is relocated to the Save Institution
1958
Safari
1960
Safari displaced to Belgium